Suzuki carburetors were not jetted quite right from the factory, and over time, many of the flanges have become warped, causing slides to stick.  The OKO kit includes the flange mount adapter, and the 26mm K-101 provides the RL 250 with quicker response and better over-all power.  We also provide a simple airbox boot adapter that slips over the end of the stock airbox hose and onto the OKO intake.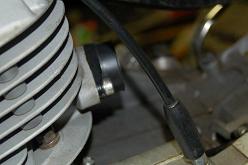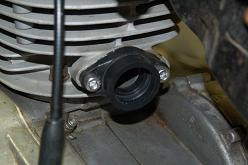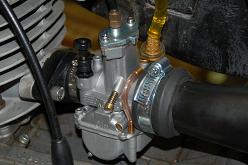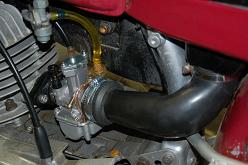 Flange to spigot adapter as included in RL 250 kit

Mounted adapter (heat block later added)

K-101 mounted with adapter and airbox hose adapter.

OKO 24mm in place for trial. Ultimately switched to 26mm

OKO-K-101 Carburetor Kit For:

Suzuki RL 250 Trials

This kit, for the Suzuki RL 250 Trials bike, replaces the OEM flange mount Mikuni carburetor. The 26mm OKO K-101 comes pre-jetted and includes the manifold adapter and airbox hose sleeve.  Use your existing cable.