OKO K-104 Information Page

The OKO K-104 series of D slide carburetors consists of sizes 32mm through 40mm.  These carburetors are generally used on 250cc and larger displacment engines that we call "go fast" bikes, like enduro, crosscountry and motocross bikes.  We are just beginning to fit these carburetors to various bikes, but with very good results.  The right size for your bike will be determined by a number of factors.  First, the spigot sizes vary from 40mm to 46mm.  You may want to pick the size of the carburetor that has a spigot size matching your manifold hose.  Then, depending on the use and tune of the engine, the appropriate size will vary.  For example, we fitted two 370cc Bultacos, one a Pursang and the other a Frontera with very different sized carburetors.  The Pursang uses a 38mm K-104, while the Frontera ran best with a 32mm K-104.  So the state of tune, as well as the size of the engine should have quite an influence on your choice of size.  Typically, when replacing a round slide carburetor with a D slide OKO you will either use the same size or one size smaller.  If the round slide used a fairly rich (low numbered) slide cutaway, you may need to drop another size for best performance.  Until we have a better database of information on these go fast bikes, we will help you determine the right size for your bike and exchange the size and jetting as needed at no extra cost.  Our goal is to get your bike dialed in correctly for you and for others who order in the future.  For those of you who live near to New Windsor, MD and don't mind leaving your bike with us for a few days, we will fit and dial in the best carburetor for your bike.

Below, we are adding photos and information on the OKO K-104s and will be placing more information and photos in time.  Contact us using the text box below for more information or call Roger at 410-635-6722 evenings (EST).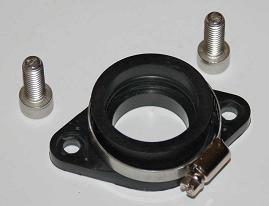 Click on the small photo above for dimensions of the various K-104 sizes.  The adapter on the right, for flange manifolds, can be used on the 32, 34 and 36mm K-104s.  It has 60mm or 2 3/8" center to center holes for mounting, but we can modify these for 63mm or 2.5" centers and up to 10mm holes.   Soon, we will also begin to carry the manifold sleeves used by most bikes from the mid-seventies on.  We now carry UNI 2 stage air filters to fit the K-104 intake.  These are 4" long and are angled 15 degress to help with placement.

For us to respond to your inquiry, we will need you e-mail address in the box above.