We've recently had the opportunity to fit an OKO to a 1973 125cc Husqvarna MX bike and are now offering a kit for this bike.  We were able to use the existing air box as well as the existing throttle cable after removing the cable adjuster on the top of the K-101.  These bikes came with an AMAL 32mm concentric, but we have replaced that with a 26 mm OKO K-101 carburetor after trying a 30mm and a 28mm K-101.  Both of these larger carburetors had a lean spot at the cutaway which the 26mm cured.  It is super responsive with no noticable loss of top end over the larger carbs.  Some riders may want to switch to a UNI air filter for ease of maintenance and jetting, as removal of the carburetor with the stock air box requires its removal as well.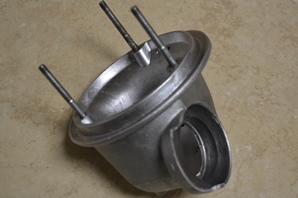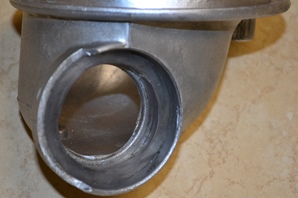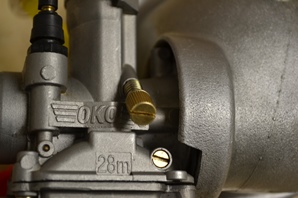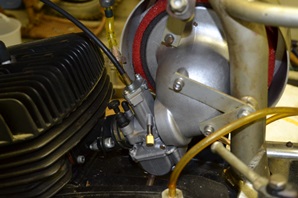 The first and second photos above show the area of the air box outlet that was cut away and the short sleeve used to fit the OKO inlet.  The kit comes with the sleeve.  It makes for a nice, airtight fit.

The above photos show the fitment of the OKO and the airbox after modifications and sleeving.  The straps that hold the airbox to the frame also needed to be shortened, but it makes for a very sturdy carburetor/airbox unit.  Idle and air adjustments are easily made.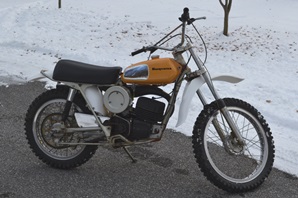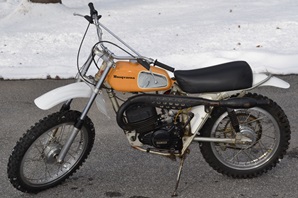 The OKO K-101 carburetor kit for the Husqvarna 125 MX includes a flange to spigot adapter with hose clamp.  It also includes the sleeve for the air box outlet.  As seen in the photos, some modification of the air box outlet is needed to shorten the adapter/carburetor/airbox combination so the filter cover fits within the frame as it should. 

OKO K-101  Carburetor Kit

For Husqvarna 125MX (1970's)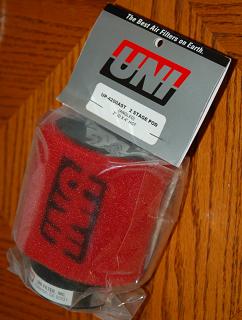 UNI  2-Stage Foam Air Filters

We are offering the UNI 2 stage foam filter for the Husqvarna to fit the K-101 series of carburetors.  They are angled 15 degrees and are 4 inches in length.  K-101 Series for the Husky has a  2" inside diameter.  The K-104 Series is 2.5" inside diameter.  Select the right filter for your carburetor from the options below.