Trials Bikes, Parts and Accessories For Sale

We are reposting the Classified page for anyone in the US who has a Trials bike, parts or accessories for Trials bikes.  Ads can be submitted in the text box below.  If you have photos, they can be sent to usaoko@comcast.net and will be posted along with your ad.  Classified ads will stay up for about a month unless you request they stay up longer.
Place your ad in the text box above.  Please include contact information.  Ads without contact information will not be posted.

2003 Montesa Cota 315R For Sale

2003 Honda/Montesa Cota 315R  Very well maintained, Showa suspension, recent piston anbd rings, new clutch w/dimpled steels, new chain and sprockets, Mitani side stand, hour/tach meter, Leonelli magnetic kill switch.  Gas and go.  $3,250  More photos and information available at woodyr@hotmail.com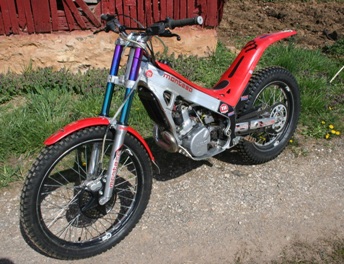 Click on Thumbnail for Larger Photo

Really nice bike, 80-90% original, starts easily and runs great.  Has a new rear tire and the forks were serviced this year.   I have some original and spare parts that go with it.  More pics are available.  Asking $2,400.  Located near Hanover, PA.  Contact via email: bkkiwi@juno.com.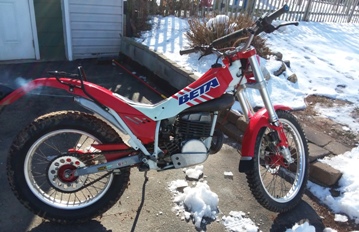 Click on Thumbnail for Larger Photo

Beta Factory riders, I have had CNC machined 2-piece handlebar clamps made by V-MAR for $64.95.  You already know the potential failure of the stock factory hinged clamp.  Great upgrade or just to have as a spare in your toolbox.  Can be picked up in Wellsboro, PA or I can ship via USPS.  Contact Terry at 570-439-3356.

V-MAR Beta Handlebar Clamps